Homicides in Atlanta are up 60 percent from this time last year
Washington, D.C. — U.S. Senator Jon Ossoff is leading an effort to coordinate Federal and local efforts to reduce violent crime in the Atlanta area. Last week in a Senate Judiciary Committee hearing, Sen. Ossoff secured commitments from two of President Biden's key nominees to lead law enforcement agencies at the Department of Justice that they will travel to Georgia to meet with Senator Ossoff and local law enforcement agencies, including the Atlanta Police Department and the Fulton County Sheriff's Office, to address the area's recent surge in violent crime.
Sen. Ossoff secured the commitments to focus on reducing violence in Georgia from Anne Milgram, nominated by President Biden to serve as Director of the Drug Enforcement Administration (DEA), and David Chipman, nominated by President Biden to serve as Director of the Bureau of Alcohol, Tobacco, Firearms, and Explosives (ATF).
According to The Atlanta Journal-Constitution, homicides have risen in Metro Atlanta by 60 percent so far in 2021. The Atlanta Police Department investigated 32 homicides in just the first three months of this year — up from 20 during the same period in 2020.
Sen. Ossoff has remained focused on reducing violence in Georgia and nationwide. In March, Sen. Ossoff pressed FBI Director Christopher Wray to more thoroughly analyze the drivers of increased violence. Sen. Ossoff also secured a commitment from Deputy Attorney General Lisa Monaco to increase focus on efforts to reduce violence and work to address the root causes of increased violent crime.
Please find a video of the exchange here: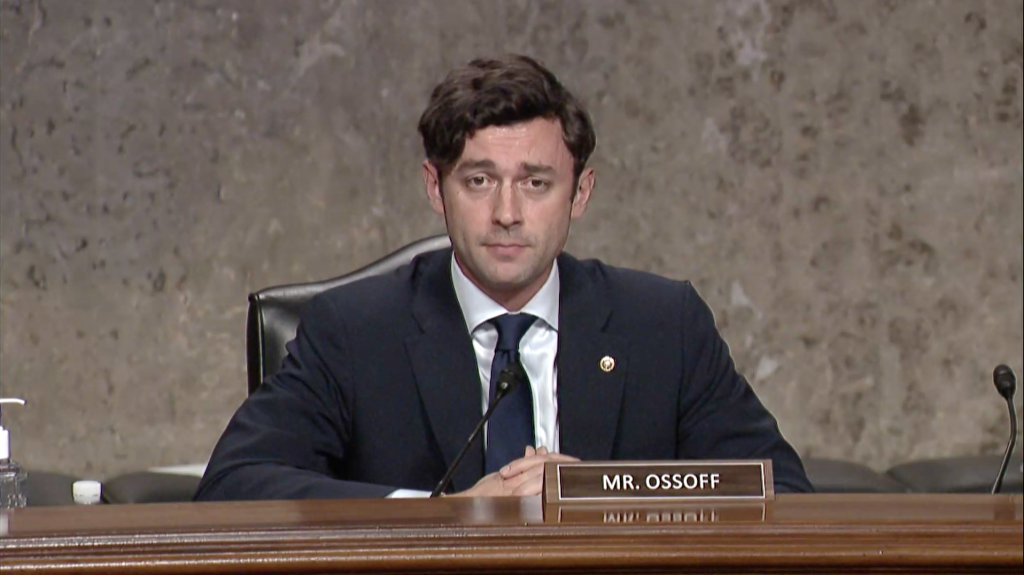 Please find a transcript of the exchange below:
SEN. OSSOFF: "I thank the panel. Thank you for your willingness to serve. Thank you for putting yourself through this process. I'd like to begin with you, Mr. Chipman. Much of the, in fact, the majority of homicides involving firearms involve handguns. Is that correct?"
CHIPMAN: "That's correct. And thank you for the question, Senator."
SEN. OSSOFF: "What steps do you intend to take, should you be confirmed, to stop the proliferation of illegal handguns and reduce the level of gun violence involving handguns on American streets?"
CHIPMAN: "Thank you, Senator. The top priority of ATF will be a focus on firearms trafficking. By focusing on the illegal transfer of guns from lawful commerce into illegal commerce, the selling and illegal dealing of guns to criminals, is the best way to prevent crime with guns. The ultimate responsibility of ATF is to do what is within our powers to prevent those offenders from ever getting a handgun if they can't lawfully possess it in the first place."
SEN. OSSOFF: "Thank you, Mr. Chipman. And this is a question for both you and Ms. Milgram, please. We've seen a significant increase in violent crime across the country over the last year. In the city of Atlanta, for example, homicide has increased 60 percent year over year. I was recently out at a park in my neighborhood with my wife and dear friends celebrating our friend's son's one-year-old birthday party, and gunfire erupted at that park, a group of young people who had been fighting moved several blocks west throughout the afternoon, gunfire erupted again, a 15-year-old girl was killed, two young people wounded. Will each of you, Mr. Chipman and Ms. Milgram, please commit to joining me in Georgia, should you be confirmed, to meet with leaders in local and state law enforcement, as well as community leaders, the Atlanta Police Department, the Fulton County Sheriff's Office to discuss how we can tackle and reverse this disturbing trend of increased violent crime and homicide that's taking lives and doing grievous harm to so many families."
MILGRAM: "Yes, Senator. I'd be delighted to join you if I'm confirmed."
SEN. OSSOFF: "Thank you, Ms. Milgram. Mr. Chipman?"
CHIPMAN: "Yes, Senator, I welcome the opportunity to visit Atlanta, visit our Atlanta field division and visit ATF's critical lab that's located there."
# # #