Washington, D.C. — U.S. Senator Jon Ossoff is pressing Attorney General Merrick Garland to implement his bipartisan law to strengthen security in prisons.
Today, in a U.S. Senate Judiciary Committee Department of Justice Oversight hearing, Sen. Ossoff called on Attorney General Garland to quickly implement his bipartisan Prison Camera Reform Act that was signed into law last year.
Sen. Ossoff's bipartisan law requires the Federal Bureau of Prisons (BOP) to upgrade outdated and broken security camera systems, ensuring all facilities have the coverage necessary to protect the safety of incarcerated people and staff, as well as the safety of the surrounding community.
The law also requires BOP to present a plan to Congress for upgrading Federal prison security cameras, which is due next month.
As Chairman of the U.S. Senate's Permanent Subcommittee on Investigations, Sen. Ossoff led multiple bipartisan investigations into the inhumane conditions in prisons and jails in Georgia and across the country.
"Our bill is now law, and the Department has a deadline upcoming next month to present a plan to Congress for upgrades to strengthen the security systems at Federal prisons," Sen. Ossoff said."So, my first question for you Attorney General is whether the department is on track to meet that deadline?"
Attorney General Garland said they are on track to meet the deadline and would ensure they do.
Click here to watch Sen. Ossoff's line of questioning.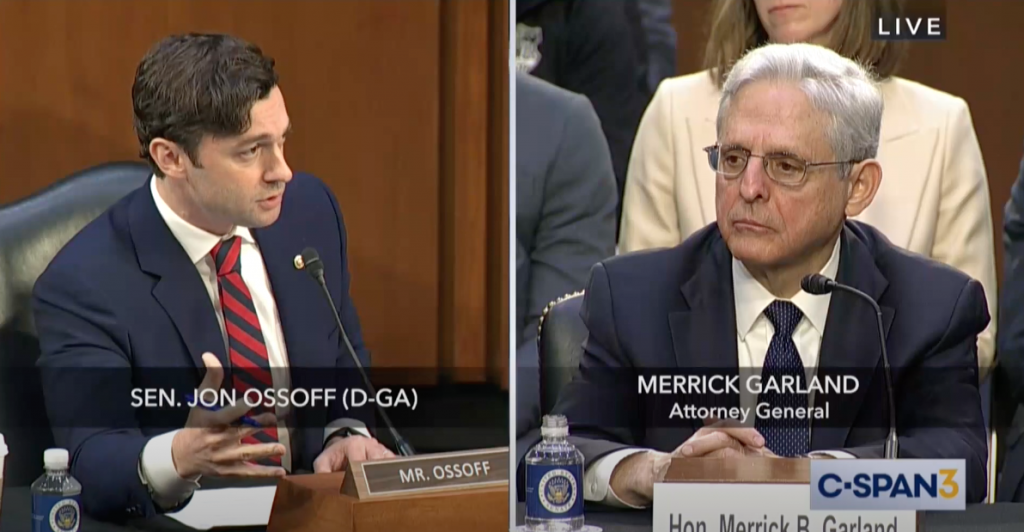 Please find a transcript of their exchange below:
SEN. OSSOFF: "Attorney General, good morning. Last year with Senator Grassley, I introduced and passed into law, bipartisan legislation that requires DOJ and the Bureau of Prisons to strengthen and upgrade security systems at BOP facilities across the country. This includes the closed-circuit cameras systems, public address systems, intercom systems, through extensive investigation of failures at the BOP.
"We've identified the inadequacies of these security systems as posing a threat not just to inmates and staff but to the broader community. This implicates public safety and indeed, we found that at U.S. Penitentiary Atlanta, failures of systems like this one allowed widespread criminal conduct within the facility, escapes from the facility, putting the entire Southeast region at risk. And that's in the words of the BOP's own internal investigators.
"Our bill is now law, and the Department has a deadline upcoming next month to present a plan to Congress for upgrades to strengthen the security systems at Federal prisons. So my first question for you Attorney General is whether the department is on track to meet that deadline?"
AG GARLAND: "Senator, first I want to say we're grateful for the work you and your committee did on this matter, and I know that you've met with the director of the Bureau of Prisons who is adopting the recommendations that you've made. I believe we are on track to satisfy the requirements of the statute, but I'd be very happy to see our staff meet with your staff to ensure that your expectations are being met."
SEN. OSSOFF: "Well thank you, Attorney General. I have worked diligently to develop the kind of trusting relationship with the new Director. She has a task ahead of her to reform a bureaucracy that's been mismanaged with significant human costs as a result, long predating your tenure. And I want to suggest that it's a necessary condition of demonstrating that the Department is taking this seriously, that this deadline be met and that we move forward expeditiously to strengthen the security systems."