Washington, D.C. — U.S. Senator Jon Ossoff is pushing to strengthen national security at the Port of Savannah.
In a U.S. Senate Homeland Security and Governmental Affairs Committee hearing today, Sen. Ossoff secured a commitment from Gary Rasicot, Acting Assistant Secretary of the Department of Homeland Security's Countering Weapons of Mass Destruction Office (CWMD), to safeguard the Port of Savannah against potential radioactive threats.
Sen. Ossoff pushed Sec. Rasicot to work with him and local officials to swiftly deploy the equipment and technologies necessary to secure the Port and protect national security.
Sec. Rasicot committed to working with Sen. Ossoff and local stakeholders to expedite the deployment of new technologies to secure the Port and said the Port of Savannah is slated to receive that new technology soon.
Click here to watch Sen. Ossoff's line of questioning: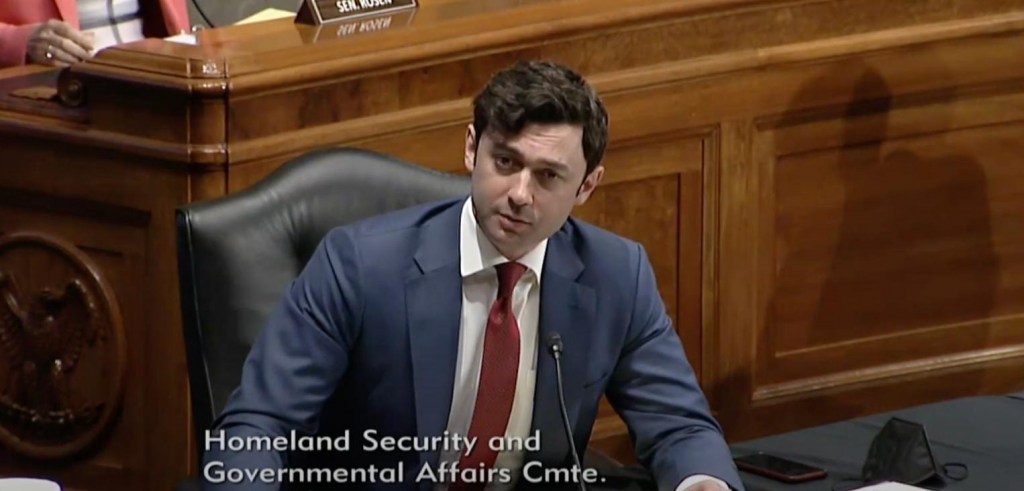 Please find a transcript of the exchange below:
SEN. OSSOFF: "Thank you to our witnesses for your service. Mr. Rasicot, I'd like to raise with you a matter that is of particular significance to my constituents in Georgia, given that we host the Port of Savannah, the fourth largest deep-water port in the country, a vital logistics hub for the Southeast United States, and a host of major shipping terminals. A 2022 GAO report found significant issues and delays with the deployment of new radiation monitors that Customs and Border Protection (CBP) operates at ports like Savannah.
"What impact might these delays and issues have on Port operations? How can operators of ports like the Port of Savannah be confident that CWMD (Countering Weapons of Mass Destruction Office) will take into account their specific needs, and provide them with the tools needed to ensure cargo is scanned for radiological and other threats at the Port of Savannah?"
SEC. RASICOT: "Thank you for the question, Senator. And we certainly appreciate GAO is looking at the RPM program. We are taking all their recommendations to heart, and actually, I'm raising the level of how we address those issues. I think we were sort of maybe stuck in a little bit of middle management on that. But I met with the Deputy Commissioner of Customs, and we continue to meet to make sure we're aligned on our expectations.
"As you know, we provide those systems for CBP, and they work in the ports. We're in the middle of a sort of a modernization or recapitalization of the radiation portal monitors. We're providing 200 of the new ones to high-volume ports to try and reduce the nuisance alarms, which is what slows down the flow through the ports. Savannah is on that list to get those. I believe that they're waiting until the ocean terminal is finished before they actually do the deployment, and we will work closely with CBP on that.
"We're very willing to facilitate any conversation between ourselves, CBP, and your Port officials. I can get you a name there, and we'll get it going. The other piece is, even though we are deploying the new units to Savannah, we have been working through our transformational R&D programs on some machine learning and artificial intelligence. It's a program called Ernie, I don't name them, but it's a way to reduce the nuisance alarms. That technology is going forward in Savannah. So, I'd be happy to either sit with your staff and give a full briefing on that or meet with the Port partners and make sure they're up to speed with what's going on."
SEN. OSSOFF: "Well, I appreciate that. That was going to be my next question, for your commitment to communicate directly with Port leadership, and other relevant parties at the Port, to ensure that those lines of communication are open?"
SEC. RASICOT: "Absolutely, Senator. We're very willing to do that."
SEN. OSSOFF: "And will you commit to working with my office to expedite, as possible and practical, the deployment of those technologies, whether it's the software platforms or the new hardware, to ensure the Port of Savannah is secure, the people of Georgia are safe, and national security is protected?"
SEC. RASICOT: "Yes."
SEN. OSSOFF: "Thank you. I appreciate that commitment."
# # #