Washington, D.C. –– U.S. Senator Jon Ossoff is working in Congress to solve hundreds of Civil Rights-era cold cases in Middle Georgia and nationwide.
In a U.S. Senate Homeland Security and Governmental Affairs Committee hearing today, Sen. Ossoff reiterated his firm support for the Civil Rights Cold Case Records Review Board, which will examine unsolved murders that occurred during the Civil Rights era.
Sen. Ossoff specifically highlighted the case of Caleb Hill, Jr., who was pulled from Wilkinson County jail in Middle Georgia in the middle of the night in 1949 and shot to death by a lynch mob.
Sen. Ossoff noted the importance of the Review Board's work to bring closure to the families and communities of those killed during the Civil Rights Movement.
Sen. Ossoff secured commitments from all four nominees, two of whom are from Georgia, to work with him to pursue the facts of cold cases in Georgia and bring justice.
Click here to watch Sen. Ossoff's line of questioning.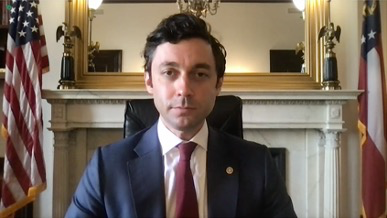 Please find a transcript of the exchange below:
SEN. OSSOFF: "Thank you, Mr. Chairman. Thank you for those kind words. And thank you to our panel for your willingness to serve in this vital mission. It is so important that we continue to pursue these cold cases. It's so important that we help bring closure to families and communities, that we continue to unearth documents, that we support these efforts to pursue justice decades later. Of course, this is vitally important in my state of Georgia and Mr. Klibanoff, of course, you and I have met and spoken in the past. I'm grateful for your work at Emory University, with the whole Emory community, for the support that you've provided families across the state to help them seek justice and closure and truth. And I look forward to supporting your nomination for this position. In Georgia, as you know, Mr. Klibanoff, and to the rest of the panel, there remain cold cases, open cases, unsolved murders, justice yet secured of victims like Alfonso Harris, who was a member of the SCLC, murdered in Albany, Georgia in 1966. Caleb Hill Jr., who was pulled from a Wilkinson County jail in Georgia, Middle Georgia, in the middle of the night in 1949, and brutally shot to death by a lynch mob. Ernest Hunter, who was killed in a Camden County Jail in St. Mary's in 1958. I want to urge this committee and the whole U.S. Senate to expedite the consideration and approval of these nominations so that this board can instantaneously embark upon this vital work of supporting the efforts to secure justice and truth in cases like these in Georgia, others across the South, and across the country. Mr. Klibanoff, given your deep experience working in Georgia, could you please talk about what you've been doing at Emory University with the Emory community working on cases like these, and talk about the importance for communities across our state of continuing to pursue the truth in these cold civil rights cases?"
HANK KLIBANOFF: "This is a largely a student project. I mean, I teach students in my class and we're doing the field work in the class, and we're doing the research in the class. COVID has complicated some of that. But we have gotten –– we get insights from community members when we go down there and we meet with people who can take us to places we otherwise wouldn't know. Because the places where something happened have been bulldozed over. There's now a rug, I mean, a road where there used to be a, you know, a nighttime place where people would go, and some of them would be killed. There's so much that the community can get involved in. I think that, at Emory, we're fortunate that we have other departments that are interested in these cases and can go in and do some work with us, whether it's community service work or to help bring people along. And to, frankly, it's for many people in community it's an education. They don't even know this happened in their own community. These were not covered stories that were covered in the local newspapers, in many cases, not in the weekly newspapers. In the Black newspapers, they were, but not in the main white newspapers. So, there's a lot of education that we feel like is important to bring to these communities."
SEN. OSSOFF: "Thank you, Mr. Klibanoff. And to the rest of the panel, I'd like to ask you briefly, for your affirmative commitment to work with communities in the state of Georgia, to work with my office, to work with the families of victims still seeking truth and justice in Georgia, and to give every effort to pursue and unearth facts and records pertaining to those cases, as you will and must for cases in all states should you be confirmed to these positions."
MARGARET BURNHAM: "This is Margaret Burnham. Thank you, Senator Ossoff. Yes, you have my commitment to work closely with your office. Hank Klibanoff and I have worked together over 10 years and much of that work has been focused on Georgia. You mentioned the Caleb Hill case. That was the case we took up about 10 years ago, and we have many, many documents and have met with individuals who are deeply familiar with that case. So yes, you, you do have my commitment. And I thank you for yours."
SEN. OSSOFF: "Thank you, ma'am."
BRENDA ELAINE STEVENSON: "This is Ms. Stevenson. Thank you very much, Senator. I affirm that you have my commitment to work with your state and to work with your office with regard to these cold cases. As a social historian, I have committed myself throughout my career to working with materials that impact communities and families and so often in very horrifying ways. And so, I look forward to bringing my expertise and my commitment to this work. And with the several, the many cold cases from your state, I am looking forward to and commit myself to working very diligently."
SEN. OSSOFF: "Thank you, ma'am."
GABRIELLE DUDLEY: "Thank you, Senator. I am a resident of the state of Georgia so I am very committed to working with your office, but also just very committed to, if confirmed, to the work of this board to do as you have mentioned, for families and communities across our nation."
SEN. OSSOFF: "Thank you, Miss Dudley, and it's an honor that we have two Georgians who have been nominated for these positions. I appreciate your commitment and the commitments of the rest of the nominees. I'd like to just take a few remaining moments here to thank Chairman Peters for being such an extraordinary champion, for the effort to solve and pursue the truth in these cold cases, for expediting this hearing. Mr. Chairman, for your commitment to civil rights and to truth and justice in these civil rights' cold cases. And I want to urge my colleagues on this committee and in the whole Senate, in the interests of pursuing truth and justice in Georgia and across the country, to move these highly qualified nominees to the floor as swiftly as possible and confirm them so they can continue the work they're already doing in their communities at the national level."
# # #