Following his 8-month bipartisan investigation, Sen. Ossoff successfully pushed the Army to conduct home-by-home inspections of all privatized housing units on Ft. Gordon & installations nationwide
Please find broadcast-quality video and audio of Sen. Ossoff's press conference at Ft. Gordon here
Please find broadcast-quality B-Roll of Sen. Ossoff inspection housing units on Ft. Gordon here
Ft. Gordon, Ga. — U.S. Senator Jon Ossoff returned to Ft. Gordon today to oversee home-by-home inspections of privatized housing units on post.
Sen. Ossoff oversaw inspections of multiple privatized homes on post and met with the families who live in them. Sen. Ossoff later held a roundtable with junior enlisted personnel and their families to hear about the current state of housing on post and other quality-of-life concerns they had.
"I returned to Ft. Gordon today to ensure the Army makes good on its commitment to me that it will inspect every single home on post. I spent the day personally witnessing those inspections. These inspections are happening, and that's an encouraging sign," Sen. Ossoff said. "We still have a long way to go, and we need to see continued forward momentum by the Army and sustained change from Balfour Beatty to do right by the families here at Ft. Gordon."
At Sen. Ossoff's request and urging, inspections of every privatized home on post at Ft. Gordon began yesterday and are expected to take approximately four weeks to complete.
In December, Sen. Ossoff secured that commitment from the Army to conduct inspections of all privatized housing units on Ft. Gordon — and that Ft. Gordon would be the first installation in the nation to receive the inspections once new inspection contracts were finalized.
Last April, Sen. Ossoff's 8-month bipartisan investigation found mistreatment of families living in privatized military housing operated by contractor Balfour Beatty Communities.
The day following Sen. Ossoff's bipartisan hearing last April, the Army announced that it would take immediate action and conduct its own investigation into the conditions of these housing units at Fort Gordon, suspend any requests from Balfour Beatty for incentive fees, and launch an audit of Balfour Beatty's property management records at Fort Gordon.
In the weeks and months after, Sen. Ossoff launched a series of additional inquiries with the Army to call for further oversight of privatized military housing in Georgia and nationwide.
Last month, he launched an additional bipartisan inquiry with Sens. Rick Scott (R-FL) and Marco Rubio (R-FL) calling on Defense Secretary Lloyd Austin to improve data collection about privatized housing conditions that may pose a risk to military families' health and safety.
After the inspections today, Sen. Ossoff held a press conference to update the media on his efforts. Click here for a recording of the press conference and click here for B-roll of Sen. Ossoff overseeing the inspections.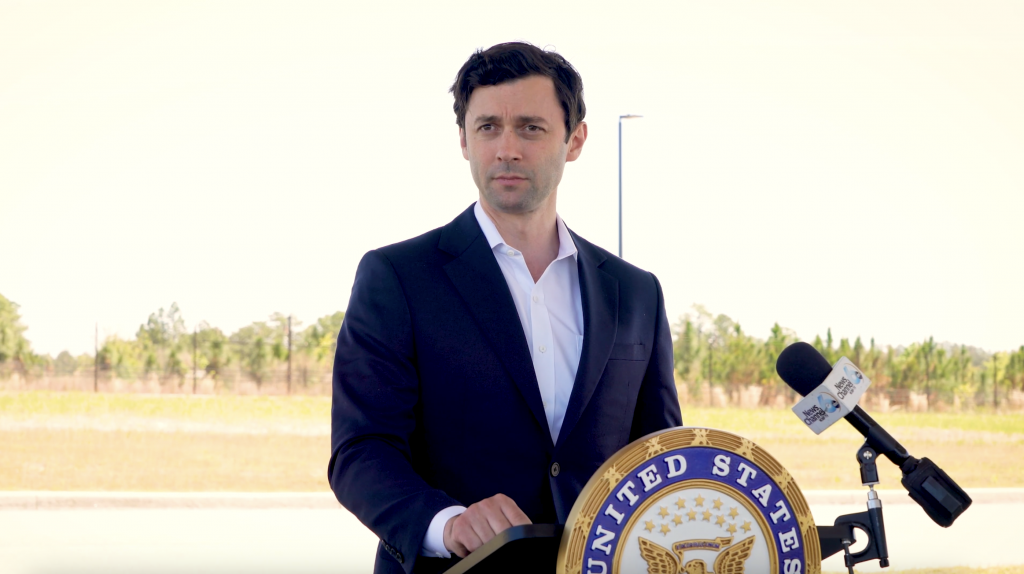 Please find a transcript of Sen. Ossoff's press conference remarks below:
SEN. OSSOFF: "Thank you so much for joining me here at Ft. Gordon this afternoon. I want to begin by expressing my gratitude to General [Paul] Stanton, Colonel [Reginald "Reggie"] Evans, and the command staff here for welcoming me back on post and for their leadership at this installation.
"The men and women who serve here at Ft. Gordon do work that is vital to our national security. And they deserve to live in safe and healthy housing.
"I came here today to ensure that the Army is making good on its commitment — a commitment that Army leadership made to me personally and to the military families on post here — that they would inspect every single home on post. That's why I'm here today.
"Last year, I led an eight-month long bipartisan investigation of housing conditions here at Ft. Gordon and at other bases across the country, and installations across the country, where there's privatized housing. And what we found was consistent with the complaints that military families here have been raising for years: widespread mistreatment of families living in privatized housing on post.
"And this matters because first of all, we owe it to those who make tremendous sacrifices to serve that they have safe, healthy accommodation.
"I've got a 15-month-old baby daughter at home. I know how it is for these young families and young parents who have infant children or young kids in these homes. They cannot and should not have to fear that their child may be sickened by the housing they're living in on a U.S. Army installation.
"This also matters because this gets directly at the Army's ability to execute its mission in our national defense. Healthy soldiers who can focus on their mission instead of being distracted by distress about the conditions their family is living in are better able to defend our country.
"And we are better able to retain the exceptionally talented people in the Army when they and their families are treated right and are living in safe, healthy housing.
"That's why this matters. That's why I launched that investigation last year. And that's why I've stayed focused on this.
"I demanded that the Army come and inspect every single home on post. They committed to do so, and they are doing so. And that's a positive sign.
"That's why I came here today: to confirm that these home-by-home inspections are underway.
"They are underway.
"I appreciate the Army's commitment to do that. I appreciate that the Army's making good on their commitment to do that.
"But we've still got a long way to go, and much work ahead of us to ensure that the housing here is up to standard and that Balfour Beatty, the company that is responsible for operating this housing, is fully responsive to the needs of those who live in it.
"So again, just to be absolutely clear about what's happening today: I've returned to Ft. Gordon to personally ensure that the Army is making good on its commitment to inspect every single home on post.
"I spent the day out at communities on post personally witnessing those inspections happening. Those inspections are happening, and that's an encouraging sign. But we've still got a long way to go, and I'm going to remain focused on this issue and fully committed to holding the Army accountable and holding Balfour Beatty accountable to do right by the military families who live here."