Ahead of 2023 Farm Bill reauthorization, Sen. Ossoff is meeting with key agricultural leaders to ensure legislation meets needs of Georgia farmers & growers
According to The Atlanta Journal-Constitution, Georgia's citrus industry has grown by 10,000% in last decade
Ochlocknee, Ga. — U.S. Senator Jon Ossoff is launching a push to strengthen Georgia's citrus industry.
This week, Sen. Ossoff is meeting with farmers and growers from key agricultural industries as Congress begins working on this year's Farm Bill, key legislation reauthorized every five years that includes key programs, such as agricultural research, crop insurance, commodity pricing, and more.
Yesterday afternoon, Sen. Ossoff heard directly from citrus growers in Ochlocknee about the needs of their growing industry and how he can best fight for them in the Senate.
Sen. Ossoff and the group discussed key industry needs — including shoring-up supply chains, expanding facilities to keep up with growing demand, and strengthening research on diseases and pests that pose a unique threat to the citrus industry.
"I'm here to make sure that Georgia's fast-growing citrus sector is represented as we take up the Farm Bill in the Senate," Sen. Ossoff said. "I'll be returning to the Senate now with a very precise understanding of Georgia citrus growers' needs in terms of research, facilities and other forms of support."
Click here to find a broadcast-quality recording of the press conference and B-roll for use on air and online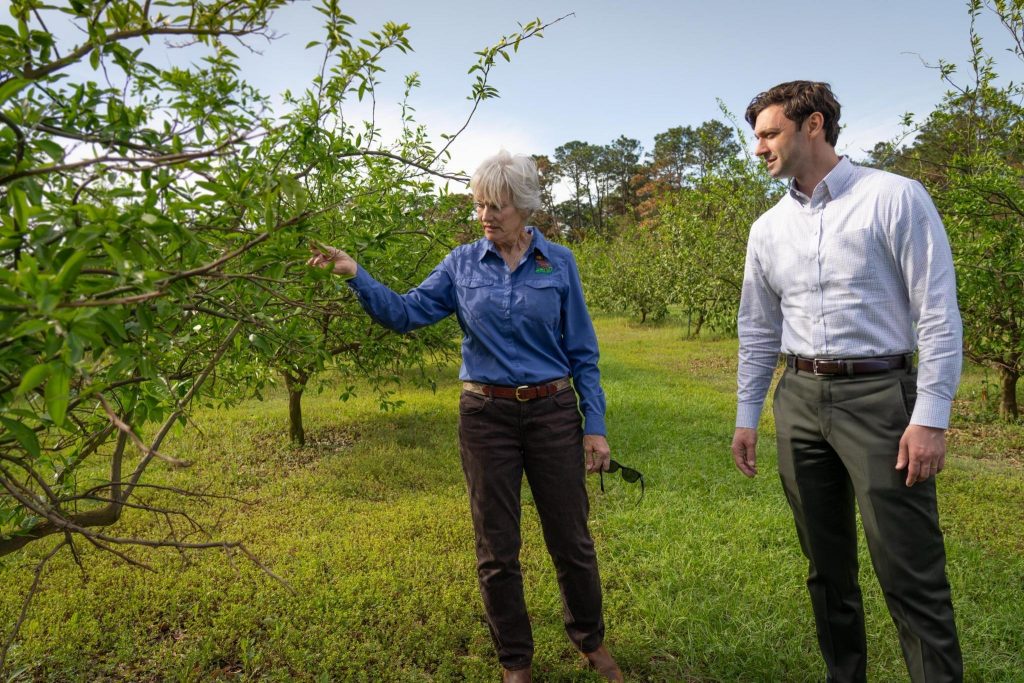 Sen. Ossoff is working to ensure Georgia's agricultural community and farmers have the information, resources, and technology they need to deliver food and goods across Georgia and nationwide.
In January, following Sen. Ossoff's months-long behind-the-scenes push, the Republic of India announced a major 70% cut to tariffs on U.S. pecan exports, a big win for Georgia farmers.
Sen. Ossoff has also been working to open more international markets for Georgia's farmers and growers to export more products.
He and Senator Reverend Warnock also recently urged President Biden and the Department of Agriculture to prioritize boosted funding to protect Georgia's poultry industry from avian flu outbreaks.