Seoul, South Korea — U.S. Senator Jon Ossoff is continuing his work to bring more Korean investment and create jobs in Georgia.
This week, Sen. Ossoff led a second economic delegation to Seoul to continue pushing for additional Korean investment in Georgia and establishing Georgia as the advanced manufacturing hub in the U.S.
Sen. Ossoff's first successful economic delegation to Korea in November 2021 yielded economic results for Georgia families. In 2022 alone, following his trip, Hyundai, Hanwha Qcells, and SK invested over $8 billion in Georgia, creating over 10,000 jobs.
"This week, I returned to South Korea to continue pitching Georgia to our Korean partners," Sen. Ossoff said. "I met with Korean business leaders to identify new opportunities to create jobs and opportunities for Georgians. I will continue working to identify partners for trade and investment that will benefit our state."
This week, Senator Ossoff met again with Executives at Hyundai Motor Group, SK, Hanwha, LG, Samsung, and more, to attract further investment and create more economic opportunities for Georgia families.
Sen. Ossoff also held a high-level meeting with Korean President Yoon Suk-Yeol and top Korean national security leadership. Covering a wide range of regional and global issues, Sen. Ossoff and President Yoon discussed upcoming opportunities to deepen trade and investment between Korea and the State of Georgia.
The meeting came weeks before President Yoon will travel to Washington, D.C., for an Official State Visit with President Biden. Earlier this year, Sen. Ossoff successfully called onPresident Biden to invite President Yoon for a State Visit to mark the 70th anniversary of the US-Korea alliance, and he also led a successful bipartisan group of U.S. Senators encouraging Speaker Kevin McCarthy to invite President Yoon to deliver a joint address to Congress later this month.
Sen. Ossoff with Korean President Yoon Suk-Yeol
Sen. Ossoff with SK Chairman Chey Tae-Won
Sen. Ossoff addresses the Korea International Trade Association (KITA) and Korea-U.S. Economic Council luncheon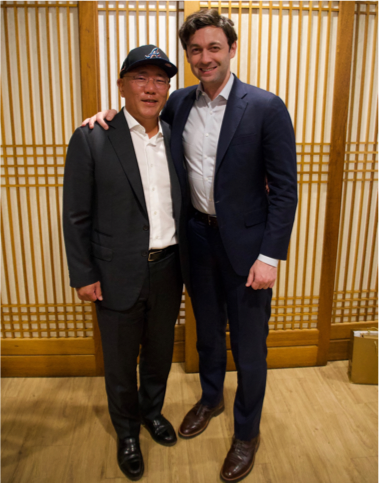 Sen. Ossoff with Hyundai Motor Group Executive Chairman Euisun Chung
Sen. Ossoff with Dong Kwan (DK) Kim, Hanwha Vice Chairman
Sen. Ossoff with Kevin Cho, LG Senior VP & Head of Investments; Bumshik Hong, LG President & Chief Strategy Officer; and Kwon Bong-seok, LG Chief Operati
Sen. Ossoff with Hark Kyu (HK) Park, Samsung President & Chief Financial Officer; and Young Joe Yun, Samsung Vice President & Head of Global Public Affairs