Swearing in highlights generational shift and Ossoff's commitment to civil rights work in the Senate
Ossoff was sworn in on Hebrew scripture that belonged to historic Atlanta Rabbi Jacob Rothschild, a civil rights activist and close ally of Dr. King
Ossoff was be escorted into the Senate for his swearing in by Senator Cory Booker
Washington, D.C. — Earlier today, Georgia's Senior United States Senator Jon Ossoff (D-Ga.) was officially sworn in to the U.S. Senate by Vice President of the United States Kamala Harris.
Ossoff's election and swearing in marks a historic generational shift in the Senate. Ossoff takes office as the first Senator born in the 1980's, the youngest Senator in Georgia history, the youngest Democratic Senator since then-U.S. Senator Joe Biden, and the first Jewish person to serve the state of Georgia in the U.S. Senate.
Ossoff also becomes the first Democrat sworn in to a full term in the U.S. Senate from Georgia since 1996.
Ossoff, who was mentored by civil rights legend Congressman John Lewis for seventeen years, enters office after a campaign that focused on the urgent need for civil rights legislation to secure equal justice for all Americans, regardless of race or class.
Congressman Lewis instilled in Ossoff the conviction to fight for justice and human rights, as well as a deep commitment to the historic bond between Jewish people and the Black community — an alliance symbolized and invigorated by the joint victories of Sens.-Elect Ossoff and Warnock.
Ossoff was sworn in using a book of Hebrew scripture once owned by Rabbi Jacob Rothschild, who led Atlanta's historic synagogue The Temple from 1946 to 1973. The book is on loan to Senator Ossoff from Rabbi Rothschild's family.
Rabbi Rothschild was an outspoken civil rights activist and ally of Dr. King. Rabbi Rothschild's outspoken opposition to segregation and Jim Crow led to the bombing of The Temple by white supremacists in 1958.
Ossoff was escorted into the Senate for the swearing-in ceremony by Senator Cory Booker (D-NJ), one of the Senate's most ardent champions for civil rights and criminal justice reform.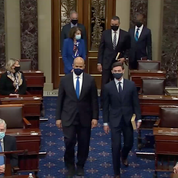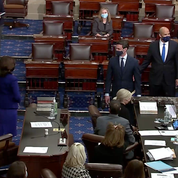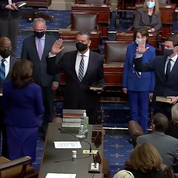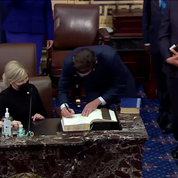 Please find photos and video footage of the official swearing in below, and click here to download the photos and video footage: